Tidy Towns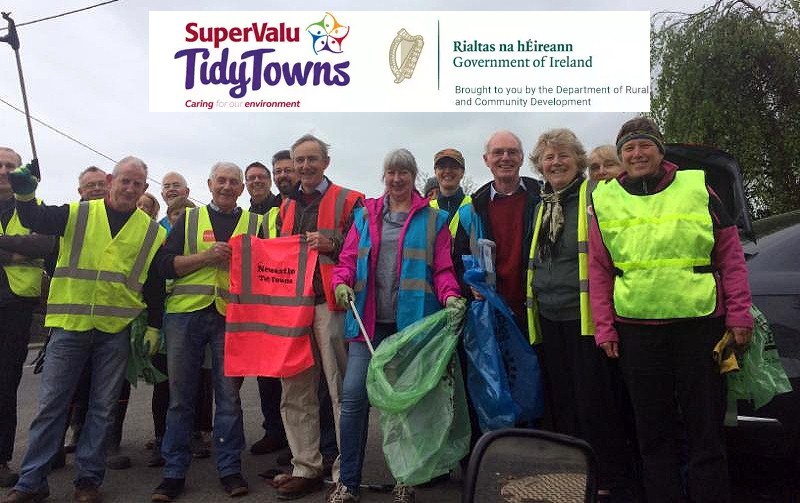 Tidy Towns Village Clean Up volunteers meet every Tuesday evening, outside the Castle Inn Pub at 7pm. We usually work till about 9pm. We need more volunteers so please consider joining us, even if it's just for one evening!
Once again Newcastle has increased its performance in the Tidy Towns competition with 319 points in 2021 compared with 312 in 2019 (not held in 202 due to Covid). The performance has shown a consistent improvement each year since 2010 when a score of 250 was achieved. The result is a credit to the way in which the village has been consistently maintained by a small core of volunteers backed up by larger numbers during our village clean day in the spring and the involvement of children in the successful anti- litter campaign, including the annual beach clean-up.
The judges, who visited the village, were particularly impressed by a number of issues including; the high quality of our highly informative application form and our efforts at enhanced communication; the degree of community involvement and engagement and the successful fundraising initiative for the fire damaged house.
Other positive comments related to the lack of litter; our beautiful cedar trees, the giant Redwood tree at Oaklawn and the old Sessile oak at Old Fort; the attractive roundabout and its blooming roses adjacent to the N11; the landscaping around Watchtower, the stonework surrounding the welcome signs to the village, the high maintenance standards achieved by the Hunter's Leap and Racefield estates and the attractive sylvan approach to Castle Manor estate. The installation of new footpaths in Seaview was also noted. The section of the Little Vartry River and its surrounds along the Sea Road around Calder's Bridge, and the Healy Farrell GAA entrance also drew positive comment as did the use of perennial plants throughout the village.
Some of their comments in the 2021 Report
Newcastle is blessed with approach roads of beautiful rural character on all sides featuring many handsome mature trees and hedgerows as well as the all-important pollinator habitat of grass verges.
Your newly completed Heritage Trail must have meant so much to all Newcastle residents during the lockdowns! The newly installed 'kissing gate' looks beautiful – well done on this project.
Your newly revitalised flower bed in the village centre looks beautiful in your photograph. It must have put on a lovely show this summer. You mention that Newcastle is due to get a Biodiversity Action Plan (BAP) shortly so you will no doubt get great advice for planting around the village therein.
Your native woodland at Racefield is looking absolutely terrific – well done – all your tender loving care over the past few years is paying off.
Lovely to hear of your collaborations with your talented local Men's shed groups. New research highlights how big is not better when it comes to bug hotels – lots of small models are best as well as making sure to keep a few banks of open soil clear around the village to provide solitary bee nesting habitats. Lucky Newcastle, you have a wonderful collection of local trees both woodlands and individuals. You clearly appreciate them and this is wonderful to hear about.
Well done on your very productive new raised vegetable beds at your Community Centre as evidenced on your facebook page! You are well clued-in at Newcastle in relation to sustainable actions and re-using materials between plastic bottle mini greenhouses and egg box, toilet roll and jam jar re-using.
We look forward to hearing about your Repair Café – a wonderful idea that will hopefully catch on all over the country. Our Country Markets have long been stalwarts of recycling and re-using. It's great to hear how you partner up with your local branch in Newcastle – especially the tea and cake part!
Tidy Towns 2021 Report
You can read the full 2021 report on the Tidy Towns website here and you can access all historical reports here.