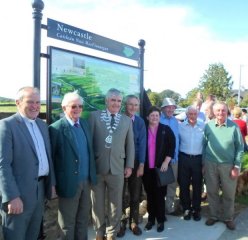 To celebrate the unveiling of the interpretative panel, Newcastle Resident association is launching the "Newcastle Historical competition" .
This competition is open to all children of primary school age from Newcastle or attending school in Newcastle (one entry per child), the prize is an ipad mini.
The closing date is Tuesday 14th October 2014.
Completed entries must be sent by post to Miriam Johnstown (Sea Road, Newcastle) or scanned and emailed to miriamjohnston@eircom.net (Subject : Newcastle Historical Competition).